Yep, you read it right. *grin* We're having a cake buffet! Imagine, 8 to 10 of our favorite cakes at our wedding. I can't think of anything sweeter. I love desserts! Cakes and ice cream are my favorites, and I have a competition in Topher. He loves his sweets too! It's really hard for us to say no when there are desserts serve at the table.
For months now, I've been going back and forth about the wedding cake, and well about many things about the wedding. At first, I just want a cupcake tower, then I learned that
everyone
is doing that. Birthdays, baptismal or anniversaries, the cupcakes are always present. I wanted our wedding to be different. One option is getting Joy San Gabriel for her mini-cakes, one that she's famous for. But then again, the price is an issue for me. It's possible that we'll have to spend around 15k (or more) for the cake, and honestly that's a bit too much even if my Nanay wants to pay for it.
Then I read LA's
post
about one of her nice-to-haves, a cake buffet. At the time that I was reading her post, I thought, what a great idea. But I didn't really think much into it. I still went to back to thinking and searching for the cake. And then, BOOOM! It hit me, a cake buffet is really briliant, beyond briliant idea. It's inexpensive, it would look nice on the table not to mention we're sure the cakes are yummy. So the next step before dreaming of my cake buffet is to ask Lace (of K by Cunanan) if they have cake stands. Bless them, they do! Lace is really nice to provide a picture of the cake stands. She also ask that we note how many we'll need by the time of contract signing.
(cake stands from K by Cunanan)
We can now decide on the cakes that we wanted for the buffet. They also have to be available near our place, easier for use to buy them a day before the wedding. Here are our choices:
(Conti's Mango Bravo; photo from practicalpinaybride.blogspot.com)
(Conti's Oreo Cheesecake; photo from Flickr)
(Sugarhouse's Almond Sans Rival; photo from shootfirsteatlater.com)
(Red Ribbon's Smores; photo from ybabie.blogspot.com)
(Red Ribbon's Choco Fudge Cake; photo from certifiedfoodies.com)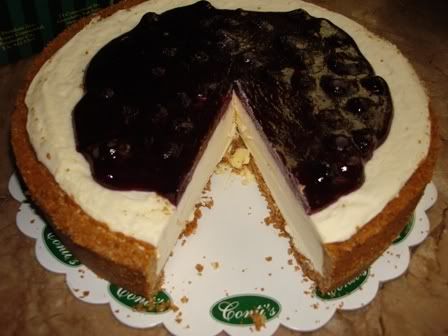 (Conti's Blueberry Cheesecake; photo from whatimlovingnow.blogspot.com)
(Conti's Choco Overload; photo from yedylicious.blogspot.com)
(Conti's Mango Cream Cake; photo from yedylicious.blogspot.com)
(Red Ribbon's Ube Cake; photo from dessertcomesfirst.com)
This list makes nine mouth-watering cakes. We would probably add another cake or two and call it a day. As much as I wanted to have all chocolate cakes for the buffet, I have to keep in mind that not all loves chocolate as much as we do, so the choices have to be diverse.
I'm soooo excited just thinking about the cakes and what they would look like come wedding day. Happiness!!